My Works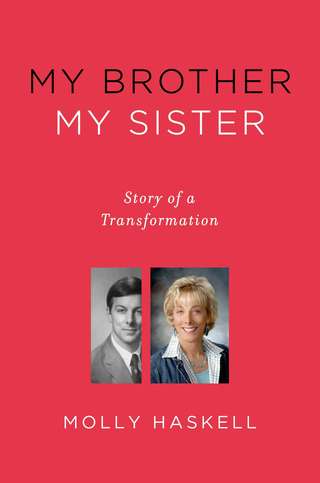 Chosen by Publishers Weekly as one of the Top Ten Memoirs of Fall 2013.

On a visit to New York, the brother of well-known film critic Molly Haskell dropped a bombshell: Nearing sixty, married with children, Chevey revealed he was transsexual and would begin to live openly as a woman. Despite her longstanding liberal views, Haskell was dumbfounded.

In My Brother My Sister: Story of a Transformation, she recounts the steps in Chevey's transition, while candidly exploring her own emotional journey, from shock and bewilderment after the initial announcement to a place of acceptance, empathy, and love for her sister Ellen. Throughout the book Haskell turns her critic's eye on herself, but also broadens her lens to include psychoanalytical and scientific research, meditations on sexual anomalies in art and mythology as well as previously published memoirs such as Jan Morris's classic Conundrum.

This is a memoir that pulls no punches in its exploration of a controversial, delicate subject. Through Chevey's transformation into Ellen, Haskell has produced a cultural map of not only her sister's experience, but of gender roles and transsexualism in a world increasingly governed by notions of individual identity. My Brother My Sister is tender, honest, informed, and at times a humorous must-read for anyone who has ever struggled to discover who they really are.


Chosen by Publishers Weekly as one of the Top Ten Memoirs of Fall 2013


Read praise for the book by Kirkus, James Wolcott for Vanity Fair, and Liz Smith for Huffington Post

Read Molly Haskell in interview with Deborah Kalb and CNN.com



Listen to Molly Haskell on The Leonard Lopate Show:

PURCHASE NOW!
MOLLY HASKELL, author and critic, grew up in Richmond, Va., went to Sweet Briar College, the University of London and the Sorbonne before settling in New York. She worked at the French Film Office in the Sixties, writing a newsletter about French films for the New York press and interpreting when directors came to America (this was the height of the Nouvelle Vague) for the opening of their films. She then went to The Village Voice, first as a theater critic, then as a movie reviewer; and from there to New York Magazine and Vogue.
She has written for many publications, including The New York Times, The Guardian UK, Esquire, The Nation, Town and Country, The New York Observer and The New York Review of Books. She has served as Artistic Director of the Sarasota French Film Festival, on the selection committee of the New York Film Festival, as associate Professor of Film at Barnard and as Adjunct Professor of Film at Columbia University. She won a Guggenheim Fellowship for 2010 and was featured in the Library of America's 2006 "American Movie Critics" edited by Philip Lopate.
She was married for 43 years to the film critic Andrew Sarris who died in 2012. Her books include From Reverence to Rape: the Treatment of Women in the Movies (1973; revised and reissued in 1989); a memoir, Love and Other Infectious Diseases; and, in 1997, a collection of essays and interviews, Holding My Own in No Man's Land: Women and Men and Films and Feminists; and Frankly My Dear: Gone with the Wind Revisited, which was part of Yale University Press's American Icon series.
A movie that should never have worked (too many cooks) does so because of the fascinating and uncompromising personalities of Margaret Mitchell, David Selznick and Vivien Leigh. As a feminist and onetime Southern adolescent, Molly Haskell understands how the story takes on different shades of meaning according to the age and eye of the beholder. She is, says Phillip Lopate, "a magician to coax such exciting, fresh, brilliant analysis from such a problematic classic."
Martin Scorsese: "This is a beautifully written and well-detailed account of the making of a movie that has, by now, become an American treasure, a landmark in popular entertainment. And it's written by a real southerner, who happens to be one of the best writers on film we have."
And Robert Osborne says it "towers above any other book that's yet been written about Gone with the Wind."
Olivia de Havilland: An absolutely marvelous work - provocative, perceptive, richly informative, and written with a contagious passion. Molly Haskell has given all of us who are in thrall to Gone with the Wind countless fresh insights, not only about its characters and the era in which they lived but also about ourselves and our own times."
Second Edition
"Haskell is interested in women--how they are used in movies, how they use movies, and how the parts they play function as projections and verifications of our myths about women's lot and woman's psyche."
-Jane Kramer, Village Voice
"[Haskell's] book is short on militant rhetoric and long on wise, constructive insight. She explores the tensions and potentialities of heterosexual relationships, as portrayed in the movies, with such humorous, sympathetic skill that both sexes can enjoy, and profit from, her work.
-J.M. McInerny, Best
Sellers

"Facing the possibility of losing him, Molly was forced to look inward to confront the contradictions in what had seemed an ideal relationship. ...Part horror movie, part screwball comedy, 'Love and Other Infectiuos Diseases' is a testament to the resiliency of the human spirit."
"Haskell speaks for all women as she confronts--with great intelligence and compassion and wit--the unspoken fears and ambivalences of marital love."
-Francine du Plessix Gray
"Few books have captured the symbiotic texture of married life at the magnificently precise level of detail this one does. There are moments of such naked honesty as to make any lover of candor's jaw drop in astonishment and glee."
-Phillip Lopate
"Molly Haskell can more than hold her own in any man's or woman's land. In her work, feminism is transformed from honking ideology into seductive song by a writer whose graceful prose reflects a wise, witty, compassionate, deeply informed and totally unfettered critical imagination."
-Richard Schickel
"As a critic and a writer, Molly Haskell is like one of her own heroines from the romantic comedies of the 30's and 40's--smart, funny, provocative, tender, independent, and dedicated to the hope that men and women off screen and on can find a decent way of acting naturally."
-David Thomson
A piece about movie theatres and how they've changed through the years.
Molly's personal take on the hit tv show.
A book review of "Burt Lancaster: An American Life," by Kate Buford.
A unique view of the confrontations between men and women, the darker side of men, and how both sexes react to these differences.
Celebrated New York Times humor piece about Molly's husband's driving, men's driving in general, and the misconceptions about women drivers.